Suddenly I am getting a bunch of search engine hits for hidden object games. Which seems bizarre, since this is obviously a journal, not a storefront, and I'm WAY down the results list. Like 200 or something. Who are these people searching through twenty pages of results to finally click on one tiny hidden link?
IT'S LIKE THEY'RE PLAYING SOME KIND OF GAME!
... Er. :)
Well, if you're going to insist on looking here, don't let me stop you... go play.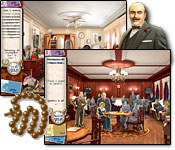 Agatha Christie - Death on the Nile

In the meantime, I'll be off playing some games that I find much more interesting. :)